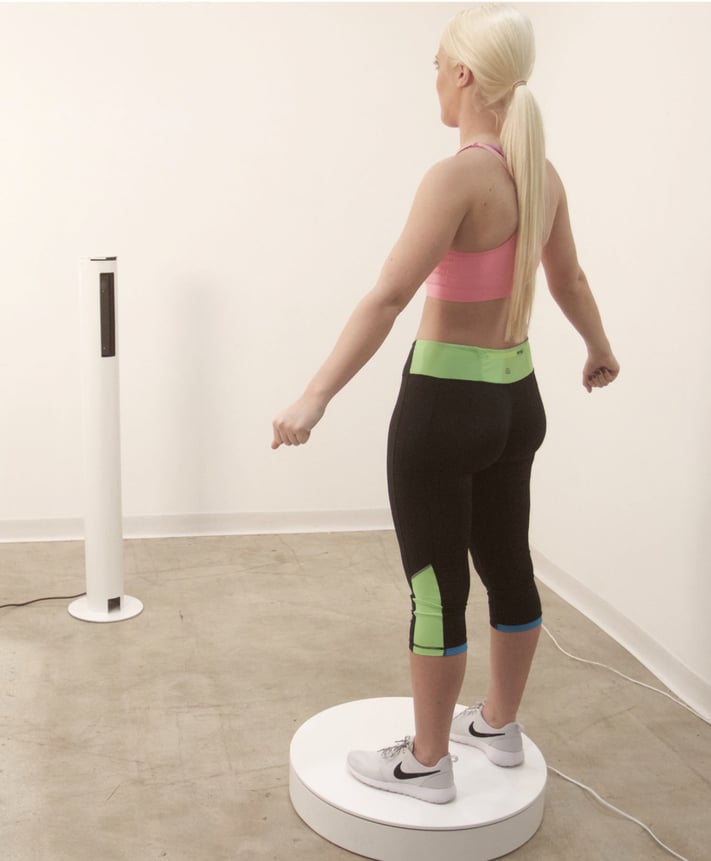 React Fitness adds Styku to their portfolio of technologically advanced products.
Until recently, apart from being time consuming, measuring body composition has been inaccurate, inconsistent and sometimes invasive. The Styku 3D Body Scanner looks set to transform the member experience.
Styku uses the world's most powerful 3D camera; over a million data points are extracted in less than 35 seconds, resulting in precise body composition analysis. Styku's virtual tape measure records measurements to within 2mm so that extremely accurate comparisons and trends between scans can be made each time.
The process is quick and non-invasive. A client simply stands in a fixed position on a turntable while it rotates 360 degrees. Within seconds Styku assembles a 3D model of their body along with a full report of body circumferences, composition and shape analysis.
Styku's software creates an immediate impact and initiates dialogue between client and trainer about fitness, nutritional and lifestyle changes. Tracking fat loss changes are visually powerful and goal setting is intuitive. By demonstrating progress, Styku will engage prospects, drive sales, enhance personal training programmes and undoubtedly increase retention levels.
Styku's exclusive UK partner and Director of React Fitness, David Morrell commented:
"To stay ahead of the competition club operators should utilise emerging technology to further improve the customers' experience. In Styku we see the future of what will become an integral part of setting up a health and fitness facility. We strongly believe that 3D body scanning will be the next must have innovation to sweep our industry, with Styku at the forefront of it."
On the new partnership with React Fitness, Styku's CEO/Founder, Raj Sareen said:
"We chose React Fitness because of their immediate understanding of the importance of our product and how crucial it will be to all fitness facilities. Their 25 years' experience and knowledge of the market will be key moving forward. There are exciting times ahead"
For further information visit www.react-fitness.com
**Originally published in Gym Owner Monthly, November 2016**