Styku is proud to introduce Bruce Quickel as the VP of Sales in North America.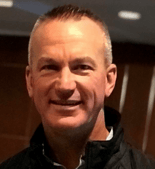 After tremendous market growth and a year of record sales in 2017, Styku is taking strategic measures to manage opportunities nationally across the industry and continue to develop the market for its products. A key target was to bring on a VP of Sales to lead growth in North America.
The team knew they wanted: someone with extremely high integrity, who put others first, always, and who was ready to lead a rapidly-growing sales organization scaling across the country. After months of searching for just the right candidate, Styku met their match in Quickel.
Quickel is a seasoned expert in sales, account management, and business development. He brings a truly one-of-a-kind perspective, having worked on both the manufacturing and finance sides of the club industry. Quickel previously made significant contributions at FreeMotion Fitness as a national account manager. Quickel has additional industry experience at Octane Fitness, Jonas Fitness, and ABC Financial. He began his career in the fitness industry spending nine years with LifeFitness, leaving as a regional manager.
Most admirably, Quickel served eight years in the United States Army as a combat medic, from 1989 to 1997. Quickel is a decorated war veteran, most notably receiving the Combat Medical Badge during his tour in the Persian Gulf War. In addition, Quickel received seven service medals, including: the South West Asia Service Medal, Kuwait Liberation Medal, National Defense Medal, Army Good Conduct Medal, Army Achievement Medal, Army Commendation Medal, Meritorious Unit Commendation Medal, and the Army Service Ribbon. He is a Temple University alumni and earned his B.S. in exercise physiology and athletic training.
"I was first intrigued by Styku after having met (owner and CEO) Raj Sareen at an industry trade show. His quality of character was apparent from our first conversations," Quickel said. "His commitment to growing with high character individuals is a value I share. Once I met the rest of the team, I knew it was a perfect fit. I couldn't be more excited to take on this leadership role at an innovative company like Styku."
Quickel lives in Queen Creek, Arizona with his wife Brooke and daughters Payton and Laekyn.
As Quickel becomes more familiar with Styku and the team, he will work to implement the 3D body scanning technology across clubs and fitness centers in North America. Styku currently operates in 600+ health clubs worldwide and in 450+ clubs in the United States alone.
"What I'm most looking forward to is helping everyone around me improve and grow as a professional," Quickel said.
"Coming off the heels of rolling Styku out in 150 Gold's Gyms, we've had tremendous growth and success in the market. I think most companies would rush to hire salespeople to push forward quickly. But we wanted someone who could preserve the values and integrity of our organization," Sareen said. "We performed an exhaustive search to find someone who put relationships first and could not only scale our org but also maintain the high level of customer support and relationship management that has been so key to our success. Bruce not only epitomizes what Styku stands for, he understands our mission and our vision. We're honored to have him in our growing family."
For more information, please contact us here.