Here are the technical details of the S100 scanner.
Specifications
Scanner
Footprint: 257cm x 168cm (101in x 66in)
Rotating Platform Weight: 10.5kg (23lbs)
Sensor Tower Weight: 6kg (13lbs)
Power: 110-240 V
Setup Time: < 30 mins
Scan Duration: 30 - 40 seconds
Tower Specifications
Height: 117cm (46in)
Diameter: 25.4cm (10in)
Weight: 6kg (13lbs)
Recommended Distance: 117cm (46in)
Technology: Infrared Depth Sensor
Depth Camera Resolution: 512x424
Depth Data Resolution: ~2mm (.08in)
Platform Specifications
Dimensions: 66cm x 66cm x 12.5cm (24in x 24in x 4in)
Weight: 10.5kg (23lbs)
Power: 110 or 240 V
Recommended Max Load: 250kg (550lbs)
Speed: 30-40 seconds per revolution
Measurements and Model
Torso Measurement Precision: +- 2.5-5mm (.1-.2in)
Scanning Volume: Variable
# of Standard Measurements: 33
Requirements
Computer Requirements
Intel i3 7th Generation (i3-7100U) 2.4 GHz or faster CPU
6 GB or more DDR4 RAM
Dedicated USB 3.0 SuperSpeed bus & supported chipset
256 GB or more hard disk storage (SSD drive recommended)
1920x1080 monitor resolution
Operating System: 64-bit Windows 10 or above
Recommended: Touchscreen
Capture Hardware Space Requirements
Minimum Scanning Area: 8.4 ft. (257 cm) x 5.5 ft. (168 cm)*
Distance of Sensor from Turntable: 46 in. (117 cm)
Clearance Around Turntable: 21 in. (53 cm) on all sides*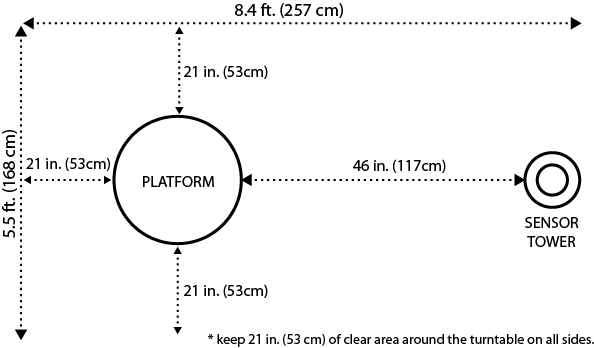 * Rooms with bright white walls or glossy, reflective surfaces may need more clearance around turntable than the minimum scanning area indicates.